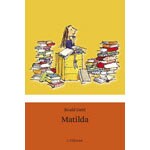 BOOK REVIEW
This amazing book is titled Matilda. Its author is Roald Dahl.
This book talks about an incredible girl, called Matilda, who is a genius with really silly parents. Besides her parents, this little girl copes with Miss Trunchbull, the headmaster of her school, who thinks that all pupils are filthy rats.
Matilda is a fantastic genius thanks to books, but her parents don't appreciate those qualities. She stars at school and meets Miss Honey and Miss Trunchbull. The little girl discovers that she is able to move objects with her eyes. Months later, Miss Honey and Matilda become very good friends, and Miss Honey tells the little girl the story of her life. Miss Honey is the nephew of…!!!!! I can't tell you, you must read the book to discover it.! !
This is a little quotation of the story:
- " You!! " shouted Mrs Truchbull pointing to Erik Ink.
- " Spell the word WHAT.
- " W……….O……….T ", Erik said answering too quickly.
- " I will give you one more chance", said the teacher patiently.
- " Ah, yes! I know", said Erik.
- " It's got an " H " in it: " W…..H…..A…..T. It's easy! "
In my opinion, Matilda never realised how smart she was.
This book is very enthusiastic because you can't stop reading it and it is very easy to follow. I love all the characters. From my point of view, the best one is Miss Trunchbull, because the author does an exceptional work with her personality, and of course with her looks.
This book takes place in many places, for example the school, which in my opinion was the most usual in the story, but it also develops in Matilda's house and in Miss Honey's cottage.
I will rate this book 8 out of 10 because I think that the book repeats the same things all the time, such as the miracles of Matilda too many times. I'll recommend this book to everybody because it has an incredible and unexpected end!!!! !
Do you want to know how Matilda's story ends?? Read the book!!!
MARÍA MARTÍNEZ NIETO.